Systems and Tools For Your dōTERRA Business That Work
To grow your dōTERRA business, you need access to the right systems, tools and strategies. Choose from dozens of proven effective ideas with One Drop's ever growing library of dōTERRA builder resources. From the Master Class Toolkit and Class Guides to Rank Advancement strategy, Launching new leaders, and Study Group guides - One Drop has everything you need and more!
1 - 36 of 90 dōTERRA Systems & Tools
Why are effective dōTERRA Systems, Tools, and Strategies so important for Wellness Advocate Builders?
Ready to skyrocket your dōTERRA business success? The key is having the proper systems and strategies in place to

really

build your business. Are you thinking, "

Woah, hold on,

systems and strategies? I signed up to sell oils — help a girl out!"

We realize that when you became a Wellness Advocate you may not have been provided all the tools to successfully run your business.

That's why One Drop was born!

Our Contributors provide Wellness Advocates with easy to use systems, tools and strategies that, when implemented properly,

set you and your entire team up for massive success.

You

love

the idea of bringing your business into people's homes, introducing them to the oils that changed your life,

and encouraging them to do the same;

but you just aren't sure what to teach outside of a dōTERRA essential oil basics class.

We can help.

One Drop's library is full of ideas

that are

loaded with value

—

and fun

— to help you educate your audience

and give them something to get excited about!

😍
Feeling unprepared to really

market your business?

Unsure of how to create content that

really shows who you are and why you love dōTERRA?
One Drop provides brochures, .pdfs, printables, and more to really show your unique brand without the hassle.

Perfect for in-person classes or virtual with your online community — simply subscribe, click, download,

and

go

.

No more time wasted trying to create content.

Mindset is everything

especially in a business like ours.

One Drop understands that life gets busy, and it's easy to get caught up in "imposter syndrome" where you feel like you're faking it … but never really making it.

Overcoming different challenges and circumstances in your business can be difficult if you don't have proper guidance

Our dōTERRA systems, tools and strategies

will help you overcome common business hurdles you're facing, and put you in the

#entrepreneurmindset

all the

top Wellness Advocates

have
What is the
secret sauce

that over 5,000 Wellness Advocates are OBSESSED with?
See what real Wellness Advocates have to say about running their dōTERRA business with One Drop in their pocket.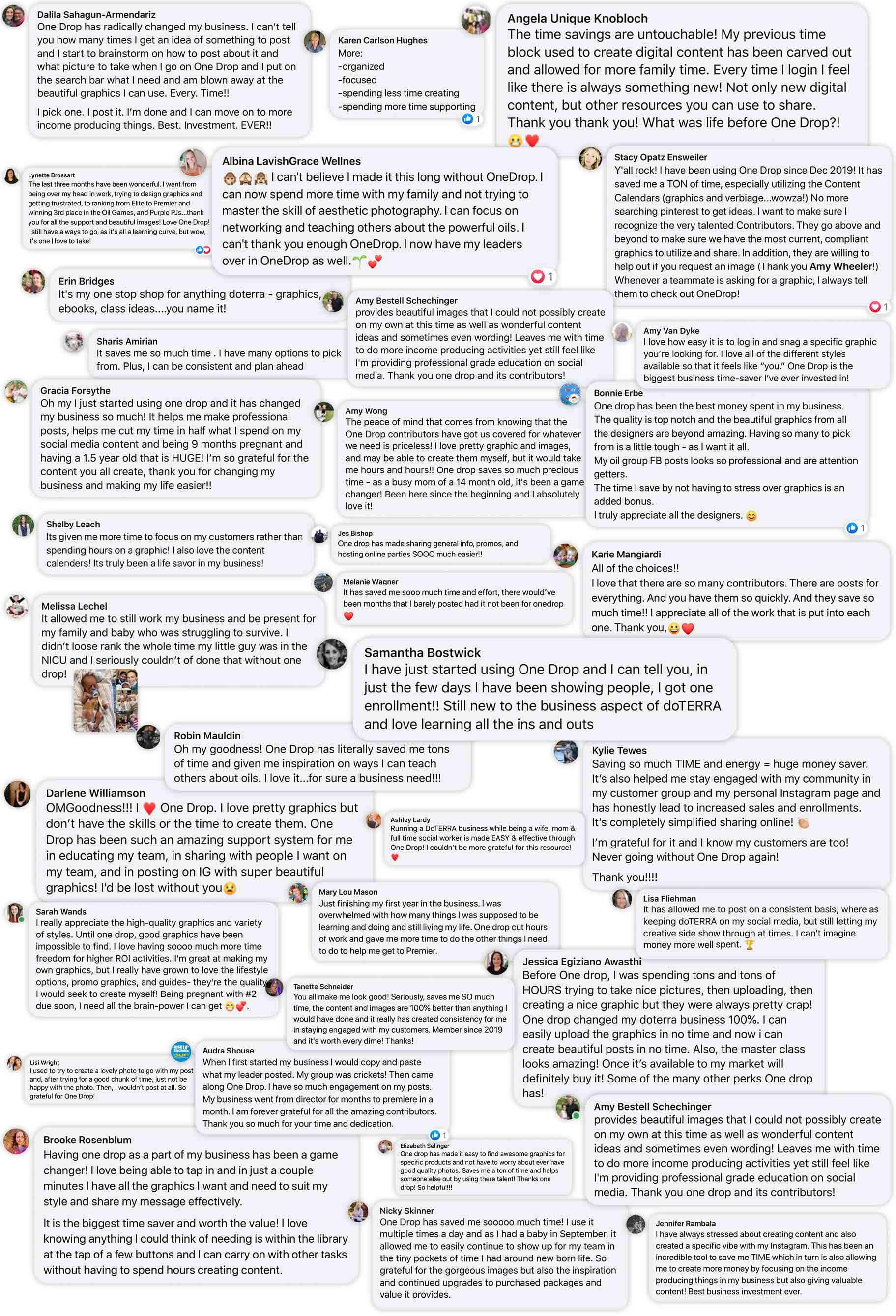 Upgrade Your dōTERRA Business with Powerful and Proven Systems and Tools, Exclusively Found on One Drop