dōTERRA eBooks and Education Guides Done RIGHT
It's time to say goodbye to BORING and LACKLUSTER dōTERRA customer eBooks. With One Drop, you can find hundreds of engaging and beautiful essential oil eBooks and education guides in our library, with more added constantly for new dōTERRA product eBooks, dōTERRA promotions eBooks, dōTERRA BOGO eBooks, and more!
1 - 36 of 273 dōTERRA eBooks & Guides
Why are engaging eBooks & Guides so Important for dōTERRA Wellness Advocates?
You're starting to get traction in your customer social media group and you're building engagement, but now you're stumped — h

ow can you take your

dōTERRA

business from good to

GREAT?
You've heard that eBooks can be huge for customer retention, yet creating one seems impossible.

So how can you successfully educate customers about

dōTERRA

products with an eBook

… when creating one isn't the best use of your limited time?

One Drop makes it

EASY

to talk about how dōTERRA oils can be used

and exactly how every person can benefit from them. Simply subscribe, download any of our eBooks, watermark and share - and your customers will swoon over the incredible education YOU are providing them.

People like

tangible things

—

like gorgeous, custom ebooks, or a PowerPoint full of value —

even in a digital world.

And most people prefer something beautiful to look at as they're learning

(

Helloooo dōTERRA welcome guides! They make every new customer feel special

🥰)

We know what you're thinking, who has the time to

make an ebook or guide?
We do.

We've taken all the tedious tasks that come with being a Wellness Advocate and created beautiful, value-adding eBooks and guides so all you have to do is share the wealth of knowledge with your team.

Talk about easy.
You take showing up professionally seriously,

we support and admire that — after all, we're Wellness Advocates too!

But creating graphics, photos, and eBooks just isn't everyone's specialty.

You'd rather your team not see your slide deck that looks like a fifth-grader created it.

And editing software?

Who has time to mess with that?

No shame in your game — we've got you covered. Ready to show up professionally and stand out online with top-notch presentations that your

downline can learn from and be in awe of?

All you need is

a little help from One Drop.

Have we mentioned how much

value

you can add to your community with

our dōTERRA eBooks and guides

?

Whether you want to share healthy habits with your customers, or you want to share all the products that dropped at this year's convention with your team, or educate them on how to use their new BOGO products —

we've got an eBook or guide just for you.

No more spending hours searching for information about products, launches,

or how-to guides.

One Drop has everything you need to help your customers say,

"I need this!"
What is the
secret sauce

that over 5,000 Wellness Advocates are OBSESSED with?
See what real Wellness Advocates have to say about running their dōTERRA business with One Drop in their pocket.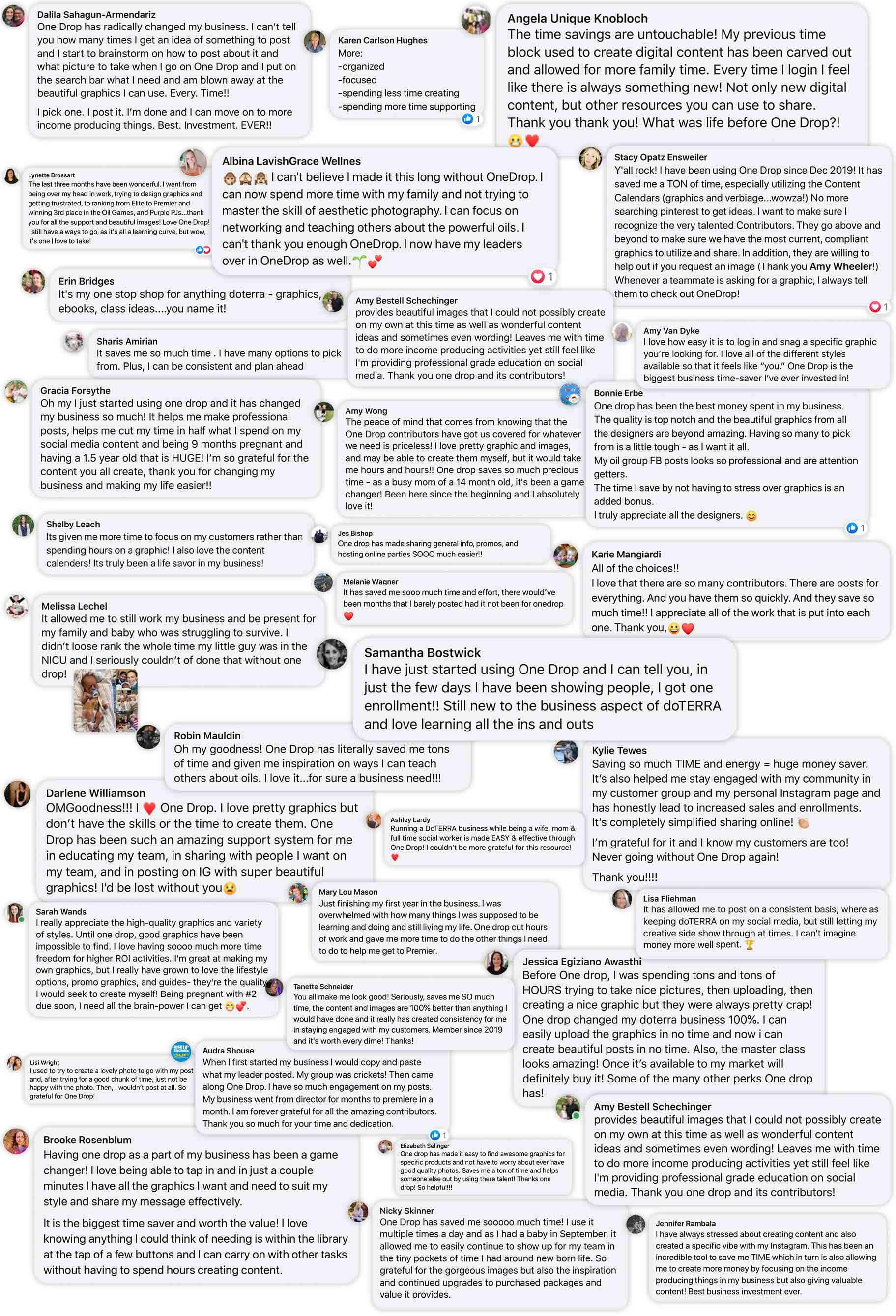 Fuel Your dōTERRA Business With GORGEOUS and EDUCATIONAL Ready-Made eBooks & Guides