27,038 dōTERRA Social Media Posts to Engage Your Audience
Finally! Scroll-stopping social media posts that create engagement and take your dōTERRA social media feed to the next level. Before One Drop, you may have struggled to keep your social media consistent (or it may have even been non-existent!) But now it's so easy to find an incredible dōTERRA social media graphic or bundle that does all the work without sacrificing on quality. It doesn't get any easier!
1 - 36 of 27,038 dōTERRA Social Media Posts
dōTERRA Social Media Posts
Why are engaging dōTERRA Social Media Posts so Important for Wellness Advocates?
Building your

dōTERRA

business can be

tough.

Especially when you're staring at your social media page asking, "

What do I post that people will stop and read?" You're left feeling

clueless about what to post or when to post on social media 😕

For Wellness Advocates, engaging social media posts are

vital

to gaining new customers and then keeping them engaged.

But knowing how to connect with your followers doesn't come easily to everyone!

One Drop has you covered. Our library of created-for-you social media posts will make engaging with your followers feel like a breeze.

Consistency is key.

You need to

show up

for your business if you want to see the success you're striving for. And as intimidating as it may seem,

it's actually quite easy with One Drop at your fingertips.

Using One Drop's library of social media posts is quick and easy. Stop wasting time scrolling your feed when you could be working on other aspects of your business — or better yet — spending quality time with your family!
Create your social media posts in a matter of minutes... (

we're talking less than the time it takes for your kids to finish their afternoon snack!)

Just subscribe, sign in, download, watermark with your brand, upload to your social media, and

BOOM!

You're building your business online!

Say goodbye to spending

all of your time

trying to figure out how to create

pretty, perfectly-spaced

social media posts from your phone.

Our social media posts are the perfect drop-and-go-from-anywhere format.

No matter where you're working from on your phone

, our library makes posting on social media effortless.

Looking for beautiful, perfectly formatted social media posts? Look no further.

You've seen your uplines' customized social media posts and wonder,

"How do they have all the time and talent?"

Wellness Advocates all over the world are using

One Drop's library of beautifully curated content and social media posts that WOW their community

no design, no photography, no post-editing experience, or endless hours staring at your computer screen required. It's truly is the EASY BUTTON for all areas of your dōTERRA social media.
What is the
secret sauce

that over 5,000 Wellness Advocates are OBSESSED with?
See what real Wellness Advocates have to say about running their dōTERRA business with One Drop in their pocket.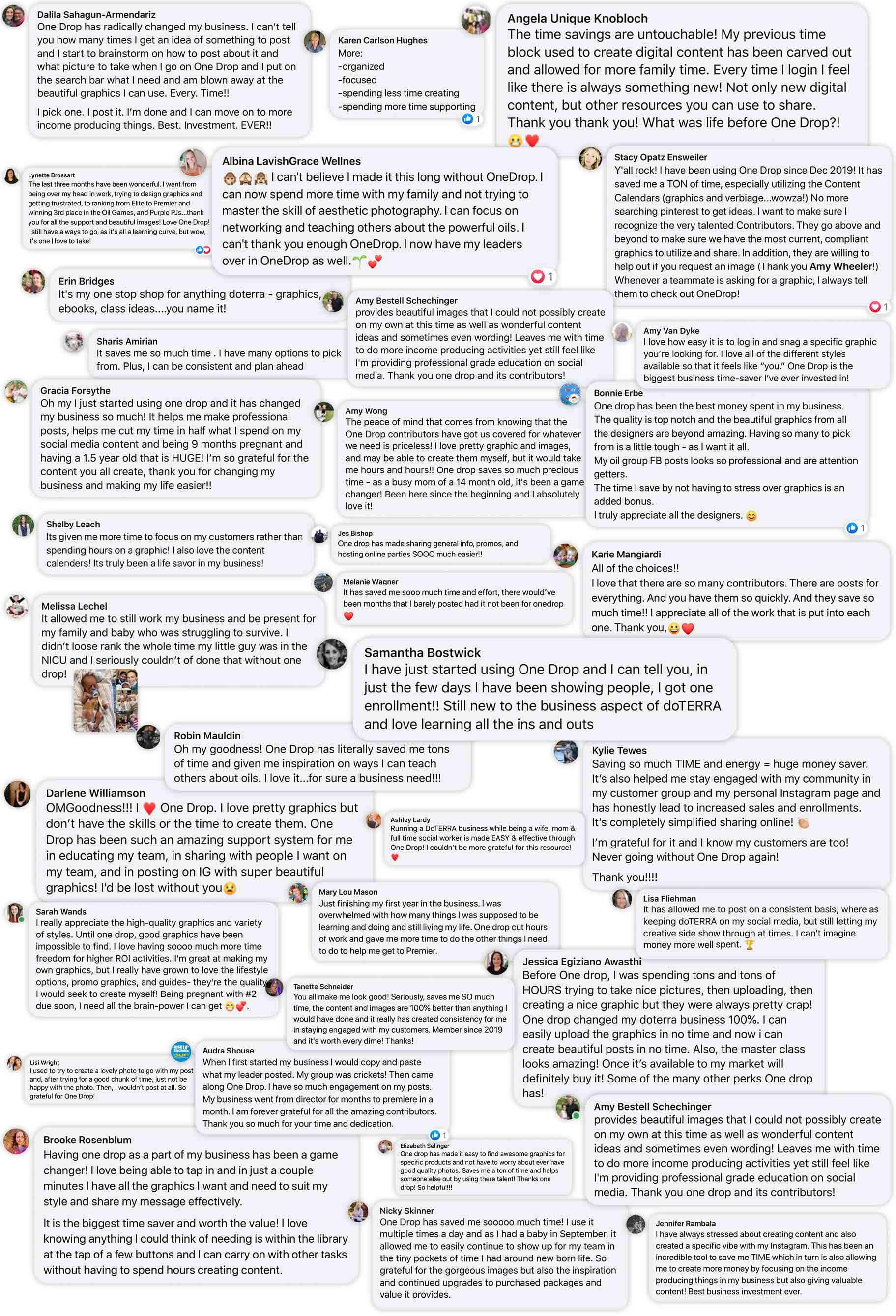 Leverage thousands of beautiful dōTERRA Social Media Posts and Bundles
crowdsourced

from talented Wellness Advocate designers around the world!