Explore thousands of dōTERRA graphics and resources
With tens of thousands of dōTERRA graphics, photos, and resources in our library, and more added every day, you'll quickly find the perfect item on One Drop for your next social media post, customer education, product promotion, and everything in between! And with so many beautiful options at your fingertips, simply browsing our catalog will inspire and ignite your next idea. Take your dōTERRA business to the next level with One Drop.
Why are High Quality dōTERRA Graphics so Important for Wellness Advocates?
You want content that matches your unique style and voice, but you're tired of wasting time searching Pinterest for ideas and motivation. Your skillset isn't in graphic design and you've spent hours away from your family trying to create eye-catching graphics. #done
You need to show up for your business. But why deal with the hassle of creating graphics when it's not your specialty? Focus on what you know: dōTERRA. Let One Drop make marketing your business easy.
STOP compromising your marketing and your personal style with mediocre graphics that you don't have time to work on. Spending too much time taking your own photographs because you can't find the dōTERRA graphics that will make your audience STOP and LOOK?
One Drop graphics and images will captivate your audience and get them talking — and enrolling with you.
Graphic designers charge upwards of $40+/hr to create just a few graphics. You run your business to make money not watch it disappear. Investing in your business is the key to success, but there has to be a better way, right?
BINGO.
A One Drop membership costs less than what you'd pay for one hour of a graphic designer's time — and you get unlimited dōTERRA graphics, images, resources, educational content, and more.
Social media has never been easier. Wellness Advocates RAVE about One Drop's made-for-you dōTERRA graphics.
Don't waste precious time digging through old posts in a Facebook group only to find lackluster graphics, when you can select from our library of ready-made, custom-designed dōTERRA graphics, images, and resources before your morning coffee has even been brewed.
What is the
secret sauce

that over 5,000 Wellness Advocates are OBSESSED with?
See what real Wellness Advocates have to say about running their dōTERRA business with One Drop in their pocket.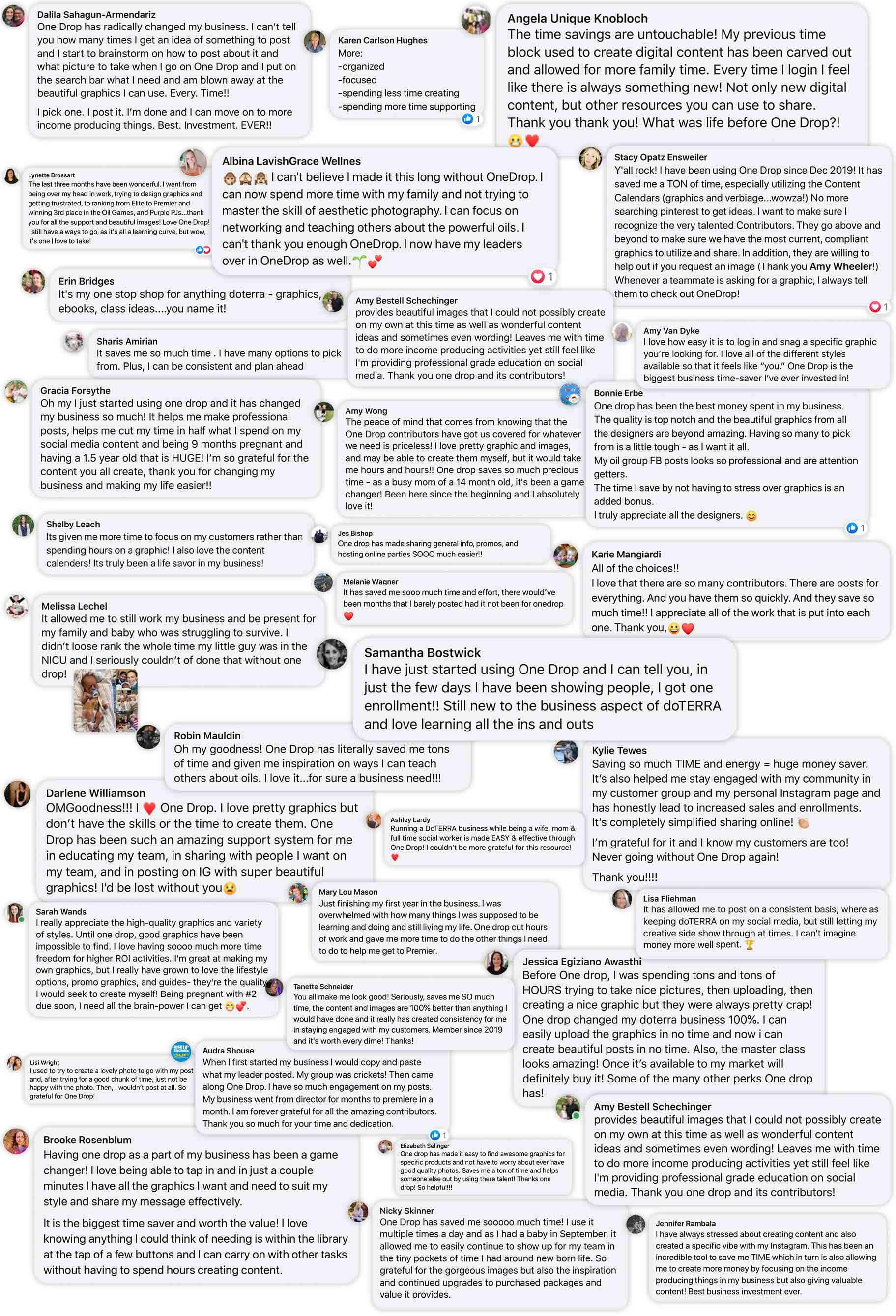 Don't just survive with mediocre marketing — THRIVE with professional, done-for-you dōTERRA marketing resources