dōTERRA Email Marketing & Newsletters Made Simple
Feeling intimidated about creating your own email marketing campaign or newsletter? With One Drop in your corner, you have everything you need to make dōTERRA email marketing easy! From done-for-you MailChimp templates to premade dōTERRA monthly newsletters and dōTERRA product announcement emails, One Drop has you covered.
1 - 36 of 74 dōTERRA Emails & Newsletters
dōTERRA Emails & Newsletters
Why is easy and effective dōTERRA email marketing so Important for Wellness Advocates?
Do you want to start an email marketing campaign, but feel intimidated by the process?

The truth is, you don't have to have a degree in marketing to set up an effective email marketing campaign.

At One Drop, our contributors create effective email and newsletter templates FOR YOU, so you can quickly set up email automation and run your campaign #likeaboss.

Are you struggling to create a welcome email series for your new dōTERRA customers?

You aren't alone. This is a common problem for a lot of Wellness Advocates.

One Drop has ready-made templates for new customer welcome series that help get them up and running in no time!

Our email templates will help you educate and inform with all the bells and whistles - and almost zero effort on your part!

To maximize your email engagement, you need eye-catching, scroll-stopping designs.
One Drop has you covered.

We have a team of contributors who are experts in design and the art of grabbing attention.

Our email templates are sure to capture the eyes of your customers so you can wow them with your message and increase LRP orders as they have a better understanding of the dōTERRA products and lifestyle.

What is the fastest way to take your dōTERRA

business to Diamond?

Leverage your time.

One Drop offers email marketing and newsletter templates because they work,

without making you work

your butt off to create them!

We make it even easier for you to have massive success in your dōTERRA business.

With One Drop's email marketing and dōTERRA newsletter templates,

you can reap all the benefits of having a killer email marketing campaign without all of the leg work involved in building your own graphics and content from scratch.

#worksmarternotharder
What is the
secret sauce

that over 5,000 Wellness Advocates are OBSESSED with?
See what real Wellness Advocates have to say about running their dōTERRA business with One Drop in their pocket.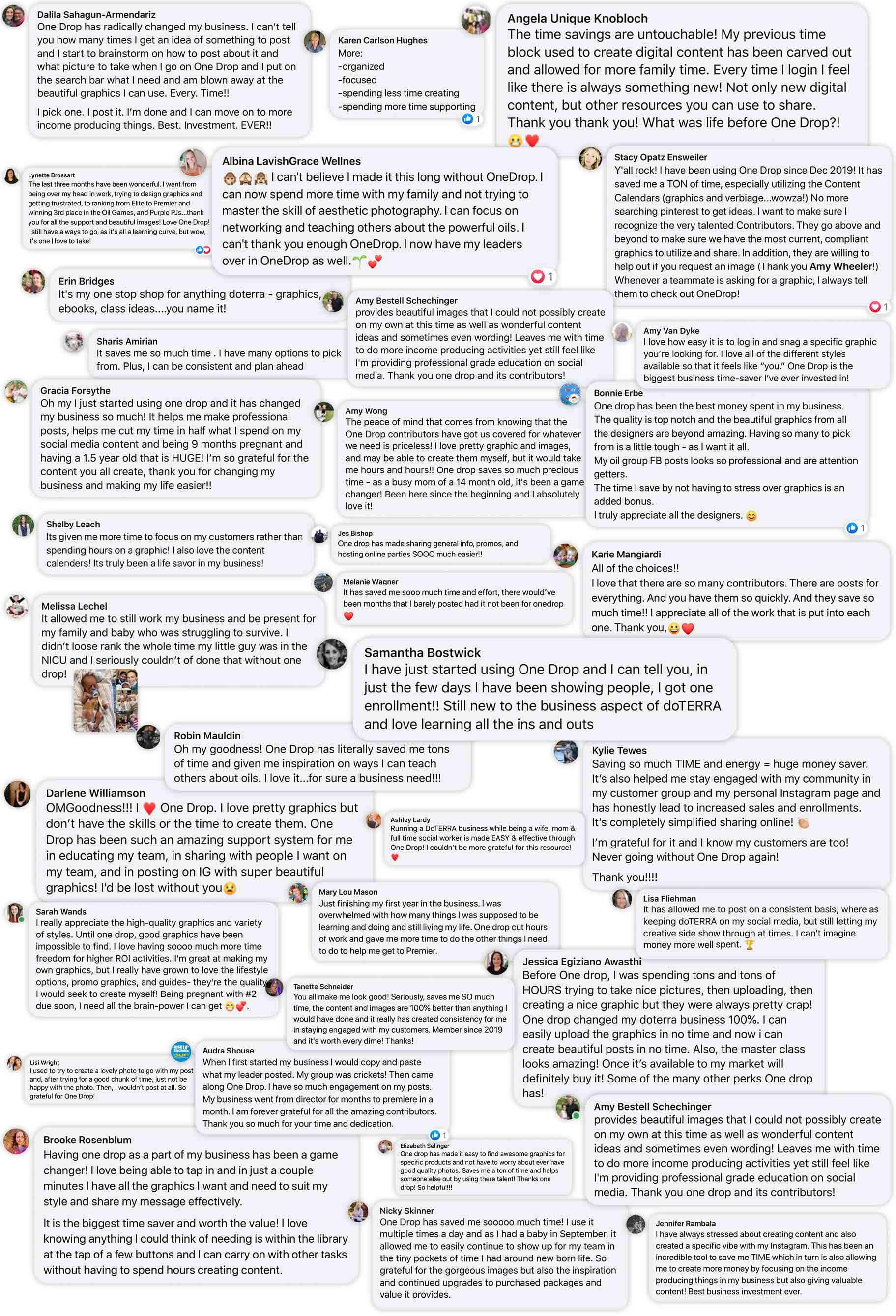 Educate Your dōTERRA Customers Like a Pro with Email Campaigns, Newsletters and Graphics 100% Ready-To-Go on One Drop