Unique High-Quality dōTERRA Facebook Covers
One Drop makes it easy to leverage your customer group's Facebook cover image area to promote dōTERRA products and promotions. Switch things up monthly and keep customers engaged with eye-catching graphics that give a gentle reminder each time they visit your group. This is the biggest image in your Facebook group, make sure you use a gorgeous One Drop Facebook cover image to give the best impression!
1 - 36 of 247 dōTERRA Facebook Covers
Why are Unique, Eye-Catching doTERRA Facebook Group Cover Images so Important for Wellness Advocates?
Visual content is one of your biggest assets for marketing your business and your Facebook group cover is one of the

easiest ways to catch your customers' attention.

Want to show off great dōTERRA promotions and products

at first glance?

You need a group cover photo that's going to leave your customers saying, "

Tell me more!"

Let the first image they see leave a lasting impression.

Your business profile should be as unique and outstanding as you!

One Drop was created to help Wellness Advocates, like you, have their stories heard.
One Drop's Facebook cover library customized specifically for you will have your downline customers excited to ask for details on dōTERRA's monthly promotions

—

and eager to learn more about how to use them in their daily routine.

One Drop makes marketing your dōTERRA business EASY.

Say farewell to late-night graphic editing sessions

trying

to get the perfect positioning of recently launched products on a background that doesn't look like your 5th Grader made it.

Or hours wasted — with results that scream

"I don't know what I'm doing!"
Our team of 200+ Wellness Advocate designers

are working behind the scenes to bring you the graphics and images you need right now

.

We're constantly preparing images for the next promotion, the next new product launch, and everyday dōTERRA life.

Sell the experience.

Have

you started a new group but don't know how to show off your products, classes, or promotions?

With the right Facebook group over (made easy by One Drop) and taking just a few minutes to show up for your business, you'll have your customers ready to purchase … yesterday!

Simply subscribe, download, watermark, and go. You're instantly on your way to taking your business to the next level.
No limitations

.

Learning how to run a business can be intimidating, but your marketing doesn't have to be.

Stop

slowing your success by reminding yourself of what's not your zone of genius.

Start with One Drop and leverage your time like never before.

By subscribing to One Drop's library full of Facebook covers, content calendars, ebooks, and more,

all you have left to do is put in the work you signed up for: Making connections and rocking your dōTERRA business.
What is the
secret sauce

that over 5,000 Wellness Advocates are OBSESSED with?
See what real Wellness Advocates have to say about running their dōTERRA business with One Drop in their pocket.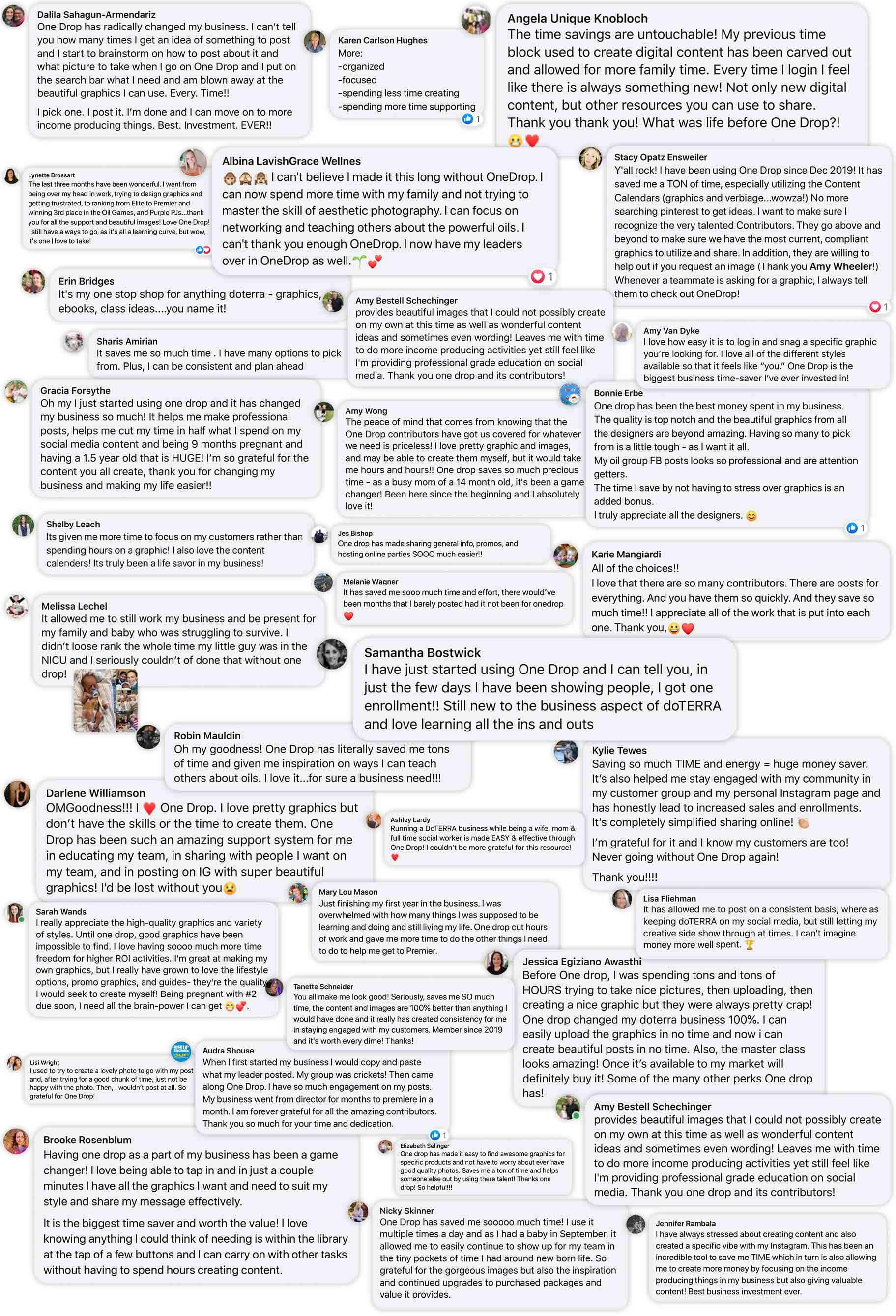 Start using hundreds of unique dōTERRA Facebook Group Cover Images
crowdsourced

from talented Wellness Advocate photographers and designers around the world!