World-Class Education Resources For Your dōTERRA Business
Educating your dōTERRA audience doesn't have to be overwhelming! With dōTERRA Guided Education Series, dōTERRA Oil Experiences, dōTERRA Presentations, dōTERRA Oil Study Groups, dōTERRA 101 and 201 Classes, and more ... One Drop's dōTERRA Education Series Items makes teaching your customers a breeze!
1 - 36 of 182 dōTERRA Education Series
What makes dōTERRA Education Resources so Important for Wellness Advocates?
You see your upline holding Facebook Live and dōTERRA Online Class events regularly,

and it IS hard not to notice how much traction they get every time they hold an event.

Instead of spending too much time giving yourself a pep-talk or

trying to convince your children to stay out of your office for just half an hour, let

One Drop

provide you with all the

quality, high-converting education content

you need.

We do all the heavy lifting so all you have to do is

show up

and

deliver

the content to your community!

You've held dōTERRA basics classes in the past, and now you're looking to give your community an even better experience

— but creating resources to teach FROM just isn't your thing.

Our library of education resources is the perfect place to look for ideas,

download beautiful, inspiring powerpoints, group study guides, 101 and 201 materials

and

easily prepare for your next oils class in minutes. Just follow along, no research or lesson plans required.
Trying to find new ways to

increase your engagement and bring in more ❤️?

One Drop has the solution.

Our Contributors do the creative work for you to deliver

beautiful, unique

and engaging educational experiences for your customers.

Ready to change the way you show up to educate your customers?

Get a One Drop membership to open your access to

thousands of

dōTERRA resources that are sure to set fire to the way you run your business. #gamechanger

Ready to show people

just how amazing the business you've created is?

You know you've got the potential, you just need the PRO-level resources.

Our

Educational Series

items provide Wellness Advocates with a multitude of different options to teach future customers the many ways that dōTERRA can lead to a healthier life — and an amazing business opportunity as well!

No more anxious feelings about inviting a new friend to your next Essential Oil Master Class.

We'll provide you the content that gives you the confidence you need to

reach and exceed your business goals.
What is the
secret sauce

that over 5,000 Wellness Advocates are OBSESSED with?
See what real Wellness Advocates have to say about running their dōTERRA business with One Drop in their pocket.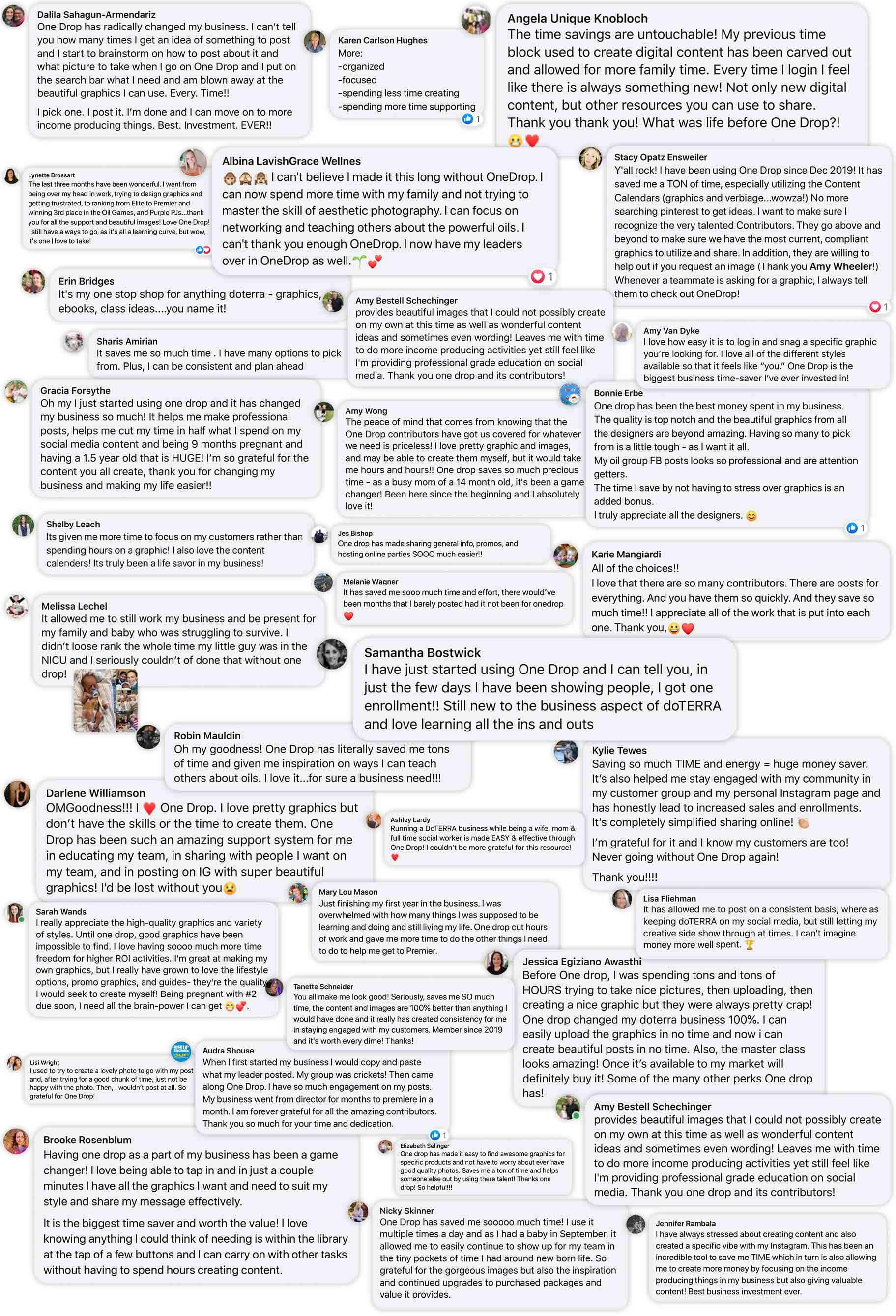 Fuel Your dōTERRA Business with Powerful and Effective Education Series, Exclusively Found on One Drop