4,862 Inspiring dōTERRA Product Photos
Taking HIGH-QUALITY photos of dōTERRA products is much harder than it seems! Having an expensive camera, knowing the basics of proper lighting, exposure, depth of field ... on top of making sure the oil bottle is full, has a clean label, isn't too reflective, and has a background that actually looks good??? Oh my! Leave it to One Drop – look like a professional with thousands of options at your fingertips.
1 - 36 of 4,862 dōTERRA Product Photos
Why are High Quality dōTERRA Product Photos so Important for Wellness Advocates?
One Drop helps you show up like a PRO in your business.

Don't spend hours trying to get the "perfect shot" all while trying to hide the kitchen countertops that you've been hoping to replace all year.

Stop the stress.

You want the perfect shot,

but your oil bottles have been used so many times and they just don't look new anymore.

You don't have any extra inventory on hand ...

now what?

Beautiful aesthetics is our thing.

As a Wellness Advocate with a One Drop subscription, all you have to do is download one of our

dōTERRA product photos

, watermark it with your brand, upload to your social media, and go.

Beautiful, scroll-stopping content done in a matter of minutes.
One Drop's library of dōTERRA product photos leads to time and money saved.

Are dollar signs flowing through your mind

and leave you thinking "there's just no way"?

You signed up to change lives with these oils,

not become a photographer.

You want the hustle without the hassle.

One Drop crowdsources from over

200 successful Wellness Advocates

updating our library

all day every day.

We take care of the hard stuff so you can get back to the real income producing activities in your business.

No more time wasted trying to fake it 'til you make it by covering your photos with filters and trying to edit them from your phone.

The One Drop library of dōTERRA product photos will give your time — and sanity — back while showing up as a professional on social media.
What is the
secret sauce

that over 5,000 Wellness Advocates are OBSESSED with?
See what real Wellness Advocates have to say about running their dōTERRA business with One Drop in their pocket.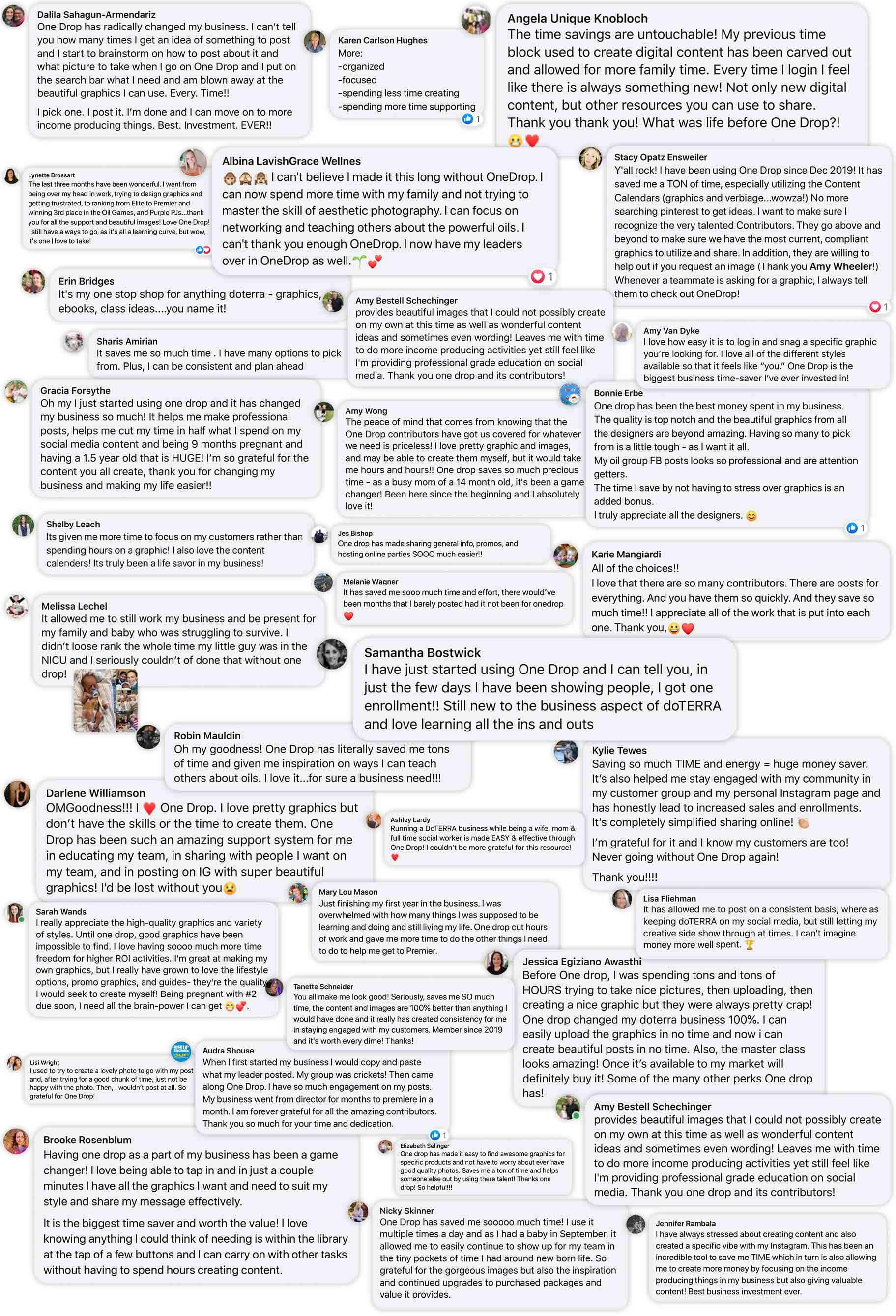 Harness the power of 4,862 incredible dōTERRA product photos all
crowdsourced

from the best photographers around the world (Psst ... they are also Wellness Advocates!)