Build Your dōTERRA Business with Text Messaging
dōTERRA text messaging graphics and bundles on One Drop are a highly effective way for you to be able to share your love of dōTERRA with your customers, keep them updated on dōTERRA promotions and new products, and ensure they continue to find success in the dōTERRA lifestyle. One Drop has hundreds of dōTERRA text messaging options to choose from in this quickly expanding category!
1 - 36 of 106 dōTERRA Texting (MMS/SMS)
dōTERRA Texting (MMS/SMS)
Why are effective dōTERRA texting graphics so Important for Wellness Advocates?
Are you looking for another way to engage and connect with your customers? Do you feel like your "voice" is getting lost in your customers' Facebook or Instagram feed?

Text message (SMS/MMS) marketing is another great way to create relationships and conversations about dōTERRA with your customers.

One Drop makes working from your phone easy with a full library of dōTERRA Texting graphics to choose from.

Did you know that Text Messaging has a

98% open rate … 45% reply rate … messages are read within 3 minutes … and 9 out of 10 consumers prefer text messaging over other marketing tools!

If you're not leveraging text messaging in your dōTERRA business,

you're truly missing out

on one of the easiest and most effective marketing options!

Don't have hours and hours trying to find or take ph

otos, taking away from time

with your family, connecting with your downline, and

really

showing up for your business?

Who does?

One Drop has hundreds of contributors that are professionals in graphic design, making it easy to find dōTERRA texting graphics that speak to your personality and pack a punch.

Gone are the days of monotonously searching for graphics (that don't suck) in Facebook groups, Pinterest, or Google images. With One Drop, you can put your focus where it matters most— sharing your love for dōTERRA and being a #bossbabe
You know your brand, you know your style, but sometimes you just don't know what to say.

One Drop has you covered.

From dōTERRA wellness kit series to dōTERRA BOGO ads, One Drop has all of the dōTERRA texting graphics you need to engage your customers and get more enrollments.

With your passion for dōTERRA + and One Drop's ready-made dōTERRA texting series and campaigns,

you'll be engaging with your customers like a Presidential Diamond in no time!

Are you ready to be a fearless dōTERRA leader?

One Drop's dōTERRA texting graphics and campaigns aren't just for customers!

Keep your builder team engaged with rank advancement notifications, promotion reminders, ideas for their success, dōTERRA tips, and more.

With stunning graphics and great communication, you can be their perfect example of rockin' your dōTERRA #businessgoals!

Are you looking for a way to light some fire under your downline?

One Drop has an text message series specifically designed to help educate and inspire your builder team. With your encouragement and our educational graphics,

your new builders will feel confident and equipped to jump into the exciting world of being a dōTERRA Wellness Advocate.
What is the
secret sauce

that over 5,000 Wellness Advocates are OBSESSED with?
See what real Wellness Advocates have to say about running their dōTERRA business with One Drop in their pocket.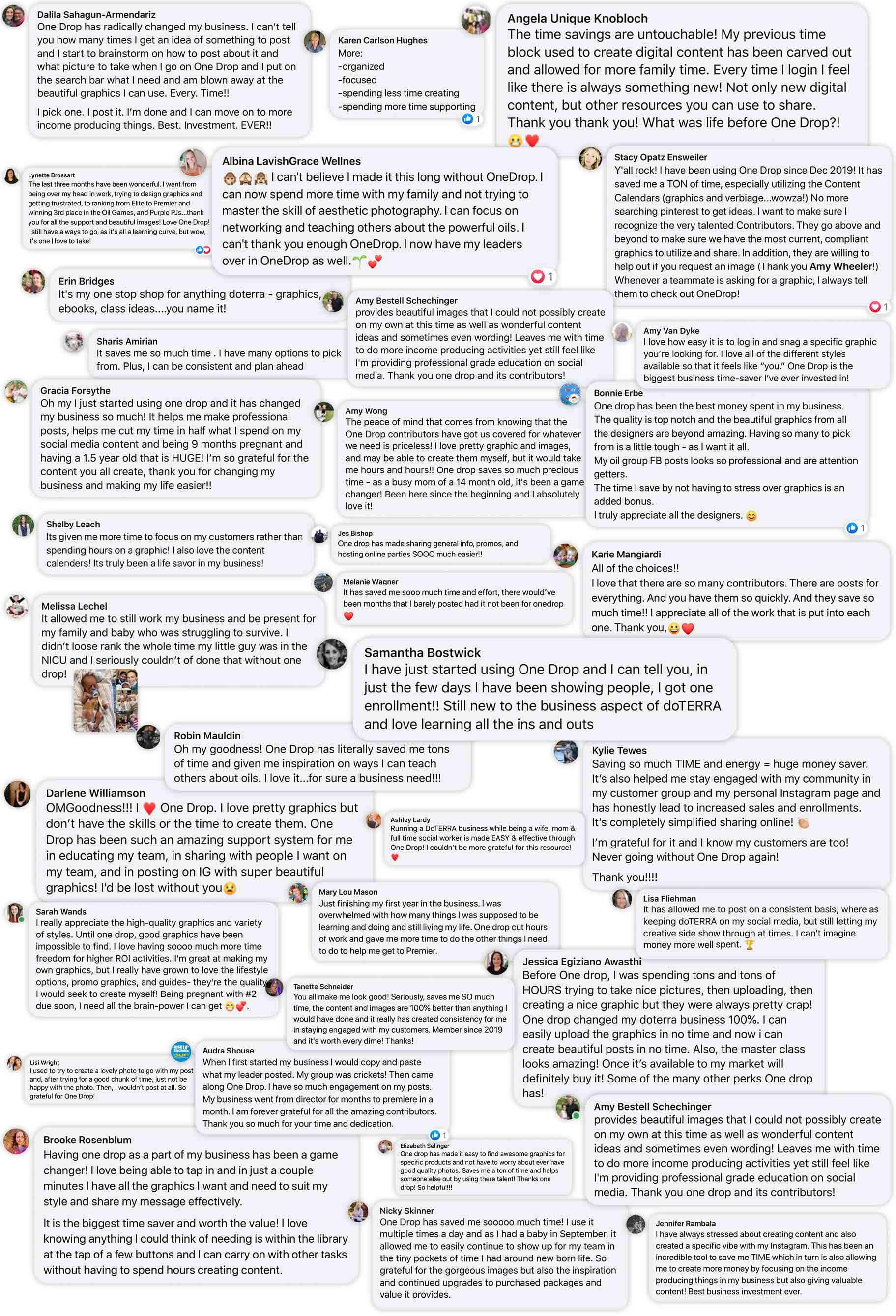 Finally Get Your dōTERRA Customers to Open, Read and Reply with Hundreds of Text Message Graphics and Bundles at Your Fingertips on One Drop