38 Easy and Effective Mini Camps and Workshops
Stop struggling with planning, creating, or developing your own dōTERRA customer trainings, sample oil events, oil camps and oil challenges. Our talented Contributors have done the work for you and eliminated the guesswork and hassle!
1 - 36 of 38 dōTERRA Mini Camps & Workshops
dōTERRA Mini Camps & Workshops
Why are Effective dōTERRA Mini Camps and Workshops so helpful for Wellness Advocates?
One Drop helps you show up like a PRO in your business.

Don't spend hours trying to create the perfect oil camp or oil challenge, just to find it falls flat or doesn't create engagement in your group.

Stop the stress.

You want to get new enrollments, but it's hard to know what works … and what doesn't. You don't want to burn out your audience as you try to figure out what works for YOU.

Powerful business resources are our thing.

As a Wellness Advocate with One Drop, all you have to do is download one of our

dōTERRA mini camps and oil workshops

, and you're up and running!

Effective, scroll-stopping content that engages your audience DONE in a matter of minutes.
One Drop's library of dōTERRA photos and graphics saves you time and money.

Are dollar signs flowing through your mind

and leave you thinking "there's just no way"?

You started with dōTERRA to change lives with these oils,

not become a photographer or a designer.

You want to succeed without all the hassle.

One Drop crowdsources from over

200 successful Wellness Advocates

updating our library

all day every day.

We take care of the hard stuff so you can get back to the real income producing activities in your business.

No more time wasted trying to fake it 'til you make it by copying your upline's content.

The One Drop library of dōTERRA photos, graphics and business resources like our Mini Camps and Workshops will give your time — and sanity — back while showing up as a professional in your business!
With our variety of done-for-you challenges, you look like the PRO that you are, without all the hassle!
Simply select the Mini Camp or Workshop that you want to teach about. Each is filled with informative and engaging content to help you educate your current customers, promote content for new leads, create new enrollments, and engage your customer and business groups.
This full range of workshops and mini oil events include downloads that contain instructions and EVERYTHING you need to run the event. It's never been easier!
What is the
secret sauce

that over 5,000 Wellness Advocates are OBSESSED with?
See what real Wellness Advocates have to say about running their dōTERRA business with One Drop in their pocket.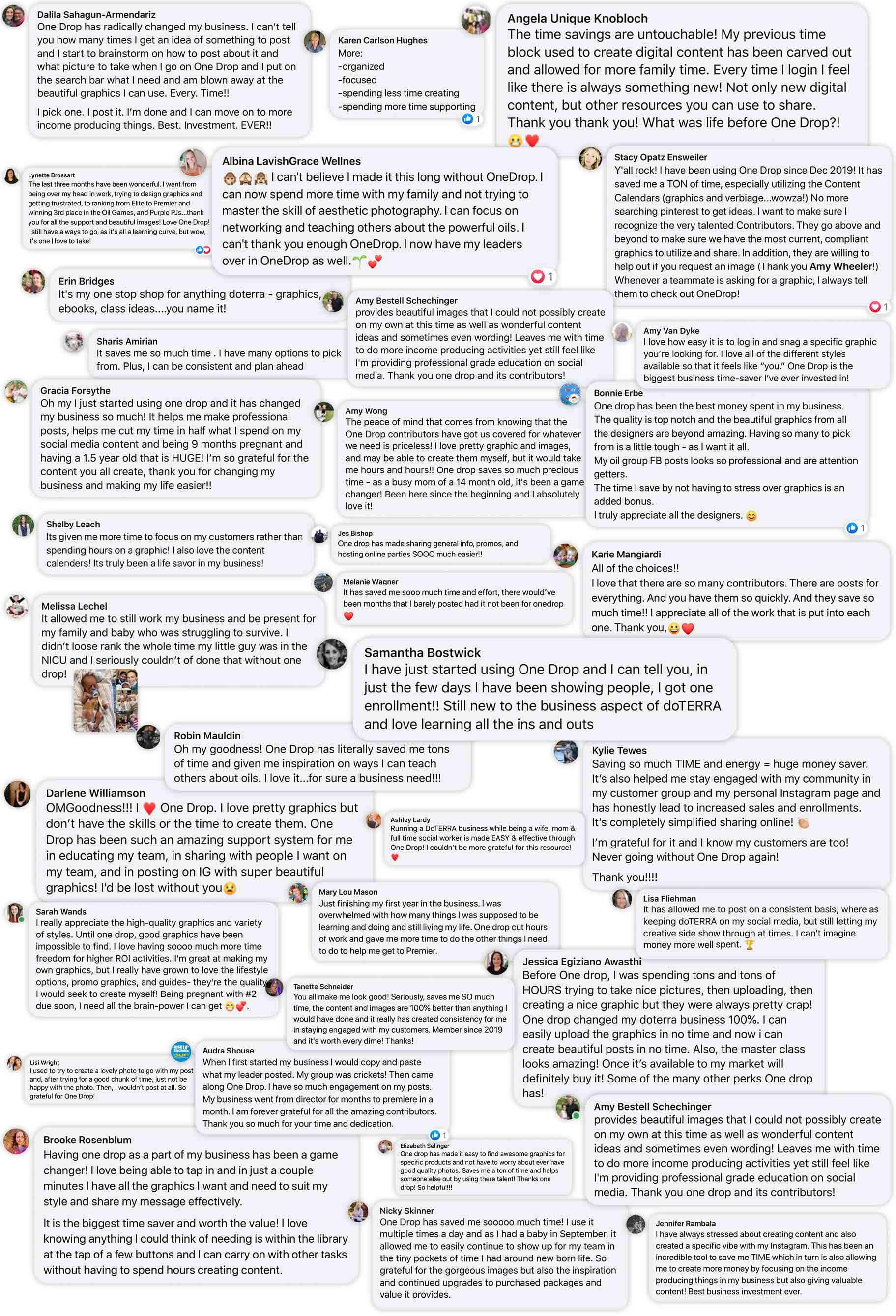 Harness the power of incredible done-for-you
dōTERRA Workshops and Mini Camps

all crowdsourced from the best designers around the world (Psst ... they are also Wellness Advocates!)