31+ Days of Compelling Copy that Engages Your Audience
Struggling to come up with content that your customers actually engage with? Grab our done-for-you themed Content Calendars with fun, educational, and engaging copy every day of the month. Our Content Calendars are a huge opportunity for dōTERRA Wellness Advocates to boost their business while saving hours and hours of time. It's like having your own Social Media Manager right in your pocket!
1 - 36 of 43 dōTERRA Content Calendars
dōTERRA Content Calendars
Why is 100% done-for-you dōTERRA Content so Important for Wellness Advocates?
You're tired of the daily headaches from trying to be inspired and come up with content that your audience actually engages with. And sick of scrolling through other leader's feeds only to ask "WTF do I even post?"
You're done wasting hours typing up just a couple posts, only to have only a few people actually ❤️ or engage with them? #ThanksMom
You're ready to stop searching the internet for new ideas, recipes, and oil hacks to TRY to come off as knowledgeable … or to come up with content that your customers even care about?!
You're sick of

copying and pasting your upline's posts

…

missing out on new customer connections because their copy "just doesn't sound like YOU"?

Because it's time for you to

stop trying to come up with content on the fly

, distracting yourself from your real income producing activities …

and pulling time away from your family.

You're ready to have

Presidential Diamond curated content

THAT ACTUALLY WORKS, while

spending just a few minutes all month

...

moving from confusion to clarity

with our pre-made, 100% done-for-you Content Calendars!
What is the
secret sauce

that over 5,000 Wellness Advocates are OBSESSED with?
See what real Wellness Advocates have to say about running their dōTERRA business with One Drop in their pocket.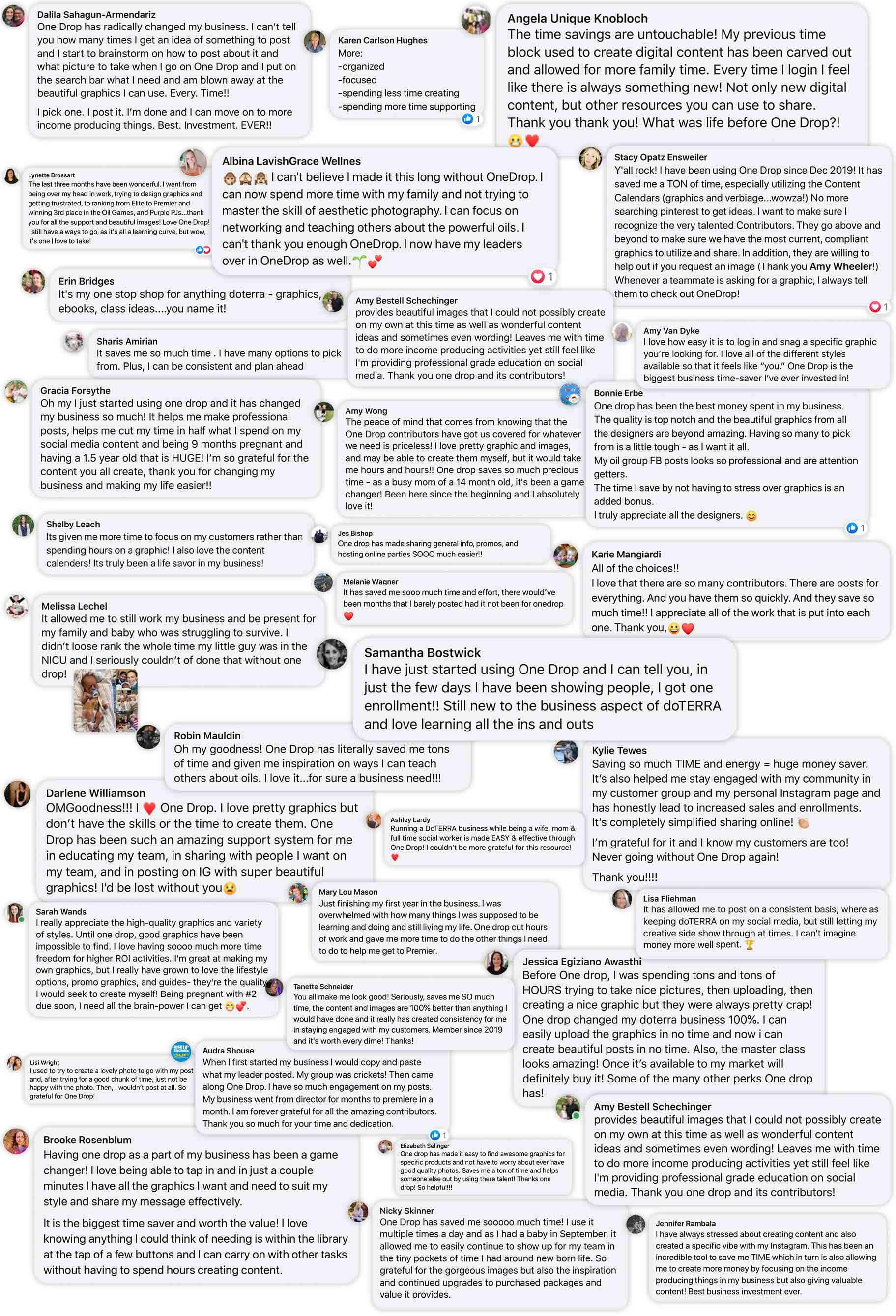 Press the EASY button on your Social Media. Get an Unlimited One Drop membership + Access Our Exclusive Content Calendars, and see just how SIMPLE it can be!