Over 1,000 dōTERRA IG/Facebook Story Bundles
Grab one of our gorgeous and educational dōTERRA Instagram or Facebook story bundles and within minutes, your audience will be swooning over dōTERRA products, dōTERRA promotions, and more! There are so many styles to choose from you'll have no problem finding one that looks like YOU and makes your social shine with beautiful story graphics that really stand out.
1 - 36 of 2,076 dōTERRA IG/Facebook Stories
dōTERRA IG/Facebook Stories
Why are engaging dōTERRA Instagram/Facebook Stories so Important for Wellness Advocates?
Actively showing up for your dōTERRA business takes time and motivation

, two things many of us struggle to find in our busy schedules.

It takes

WORK

to create consistent stories for your Insta and Facebook!

But don't worry!

You don't have to spend hours trying to create the perfect content

that speaks to your individual branding and unique voice.

With your One Drop subscription, you can choose from our massive library of ready-made dōTERRA social stories and

instantly create meaningful engagement

with your customers

We've all been there...

You pour yourself a cup of coffee and sit down to update your social media, only to find yourself

staring at your screen wondering what will make your customers STOP and READ.

Next thing you know, you're scrolling through Facebook and Instagram

and not getting work done

😬

Instead of getting caught up in the never-ending scrolling abyss and letting that coffee get cold,

head to One Drop BEFORE you login into social media.

Choose your stories, download, and post them to your feed

even before your first sip.
There's never really a "perfect time" to update your social. Life ALWAYS has a way of throwing curveballs and interruptions that make something simple feel so impossible!

But, with the simplicity of One Drop's pre-made Instagram and Facebook stories,

within 5 minutes you'll get your Insta and Facebook updated with stories that will make even the busiest working mom stop and think that SHE CAN DO IT TOO!

She's done it again!

You're scrolling through Facebook and there it is…

your upline with yet another perfectly placed story, complete with eye-capturing graphics.
How does she do it?

The woman has three kids!

(Shhh … We'll let you in on a little secret)
Your upline has been using One Drop for months — and so should you!

Don't settle for lackluster graphics and boring stories, when

you can have gorgeous dōTERRA stories for Insta and Facebook uploaded within a matter of seconds.

Find a gorgeous theme that matches your personal style and throw on your brand watermark and...

Voila! You're done!

#winning

You've transformed your social media game

and now it's time to watch the ❤️ pour in and your customer engagement skyrocket.
What is the
secret sauce

that over 5,000 Wellness Advocates are OBSESSED with?
See what real Wellness Advocates have to say about running their dōTERRA business with One Drop in their pocket.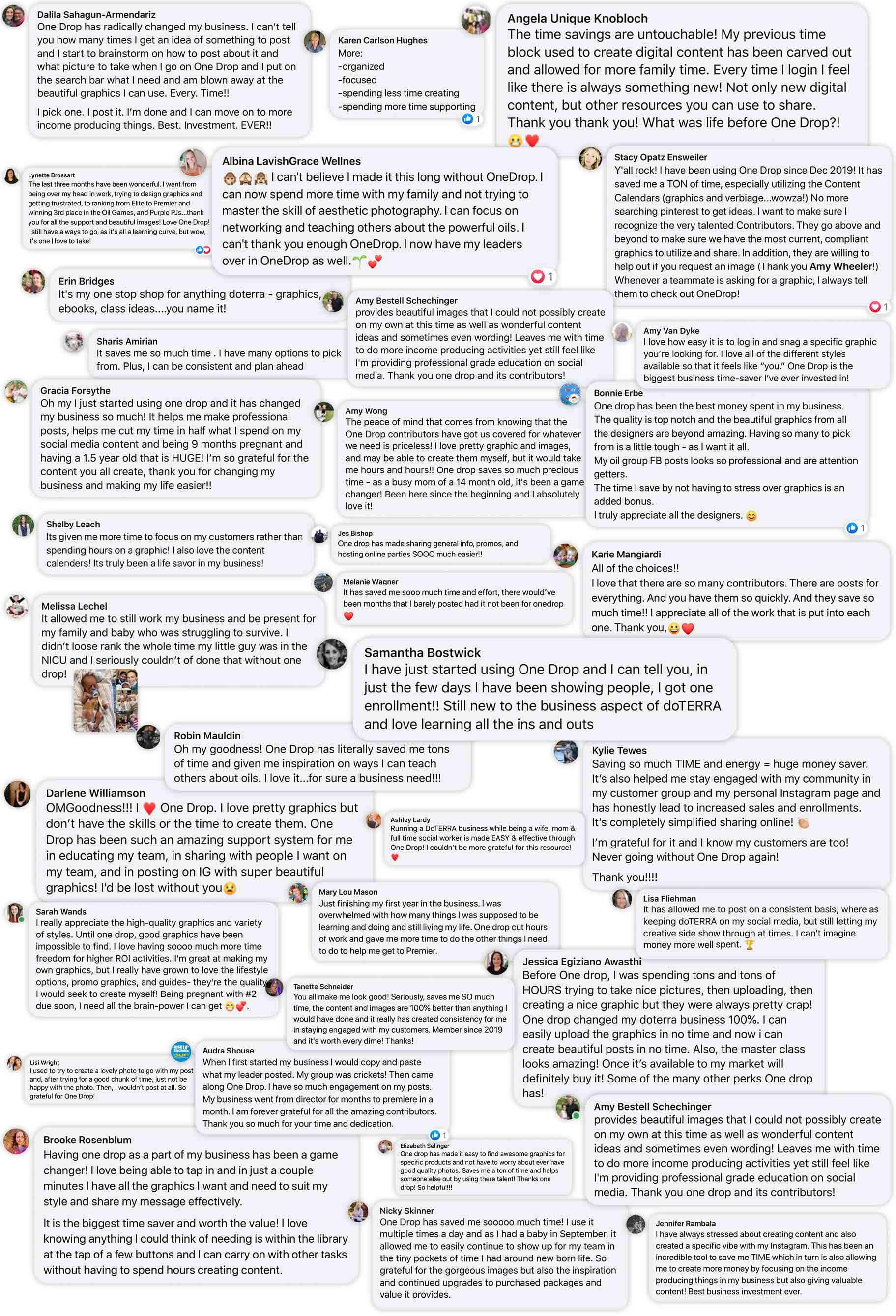 Leverage thousands of beautiful dōTERRA Insta and Facebook Story Bundles
crowdsourced

from talented Wellness Advocate designers around the world!