Hundreds of Print-Ready dōTERRA Business and Marketing Resources
Before One Drop, great dōTERRA printables were hard to find. Now included in your One Drop membership you have exclusive access to hundreds of unique print-ready dōTERRA marketing and dōTERRA builder printable items that are 100% ready-to-go. Just download, print and you're done - allowing you to spend your time in your dōTERRA business where it matters most!
1 - 36 of 856 dōTERRA Printables
Why are excellent dōTERRA printables so Important for Wellness Advocates?
Why does it seem like dōTERRA marketing resources are virtually non-existent when you first become a Wellness Advocate? Because if you don't know about One Drop, they are!

You might feel like you've already dropped the ball with your new business, and have no idea how to attract new customers.

Instead of spending hours researching how to market your business, use One Drop's library

full of

dōTERRA marketing resources created by dōTERRA's top Wellness Advocates.

Find a flyer, print it off, and you're ready to drop a stack off at your next chiropractor or dentist appointment

Do you have a friend who's got the gift of gab, loves supporting your business, but just isn't ready to take the plunge and become a Wellness Advocate?

Adding her to your referral program is the perfect way to have your cake and eat it too.

Download One Drop's referral flyer that provides all the details, drop at her door,

and both of you can start changing lives — no stress or intense marketing tactics necessary.

You're pumped and ready to teach a virtual class,

but you're not sure everyone actually looked at the Facebook invitation you sent out.

You want to get more people into your class, but how do you reach everyone?
Head over to our printables library, customize and print out a few class flyers and drop them off at your favorite coffee shop down the road —

you know, the one where all the moms go after dropping their kids off at school.

The One Drop library of dōTERRA marketing resources makes it easy to teach your community how to use your oils and just how much they make a difference in your life.

Whether you're looking to

show up professionally

online or in your community,

you need content that leaves your followers wanting to know more.

Creating your unique brand isn't easy, and it can quickly require

way more time

than you have available.

Unsure of how to create eye-catching content?

Real-life problems keeping you from having the time to sit and create a new card for the dōTERRA oil samples you want to send mail out?

We've got you covered.

No more choosing between a game of Uno with your kids or laboring over a printout for your next class.

Let One Drop's team of 200+ Contributors take care of this for you!
One Drop Designs makes marketing your business a breeze. Subscribe, click, print, and go.

Get back to what's important: building momentum in your business

and being present with your family.
What is the
secret sauce

that over 5,000 Wellness Advocates are OBSESSED with?
See what real Wellness Advocates have to say about running their dōTERRA business with One Drop in their pocket.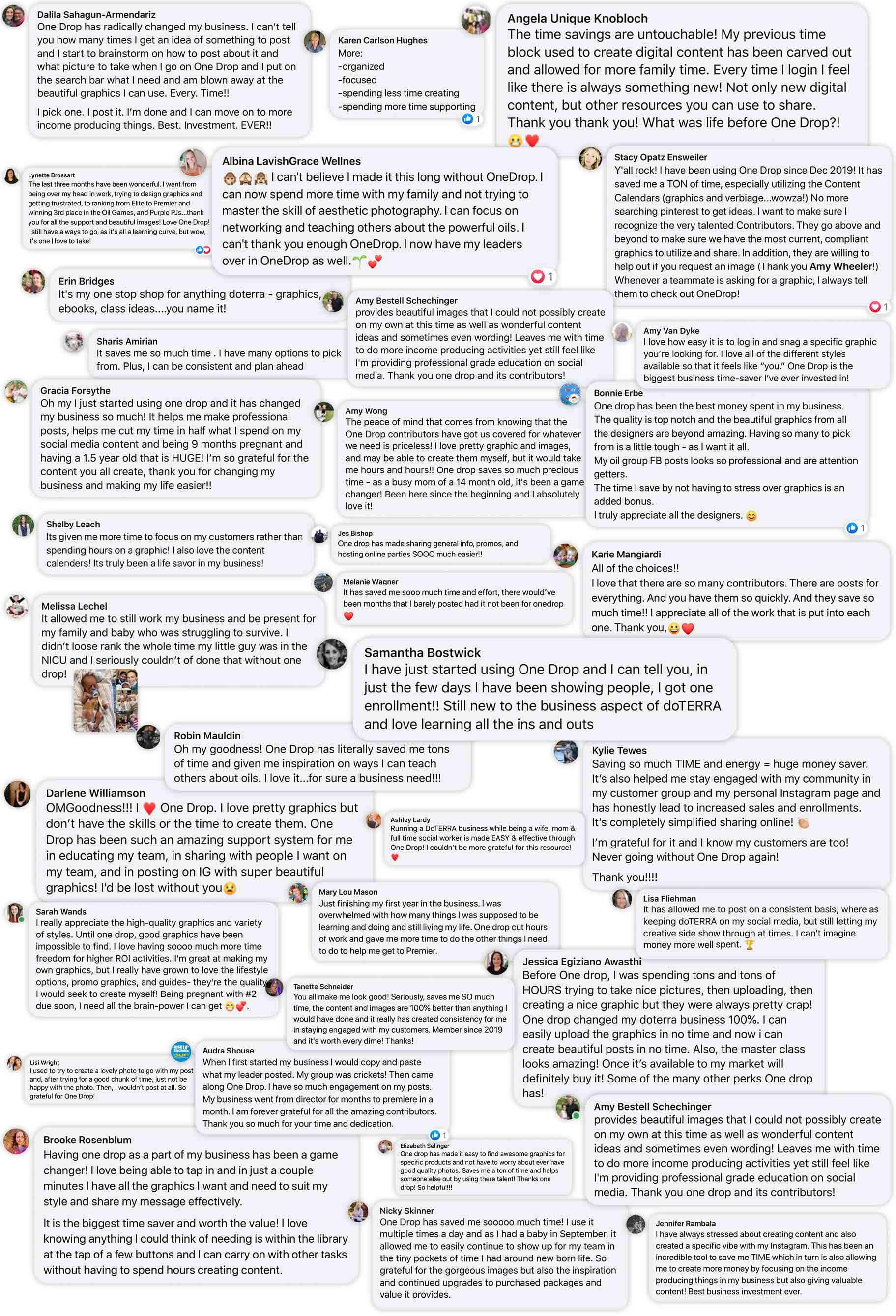 It's Time to BOOST Your dōTERRA Business With Hundreds of Ready-to-Print Resources at Your Fingertips with One Drop