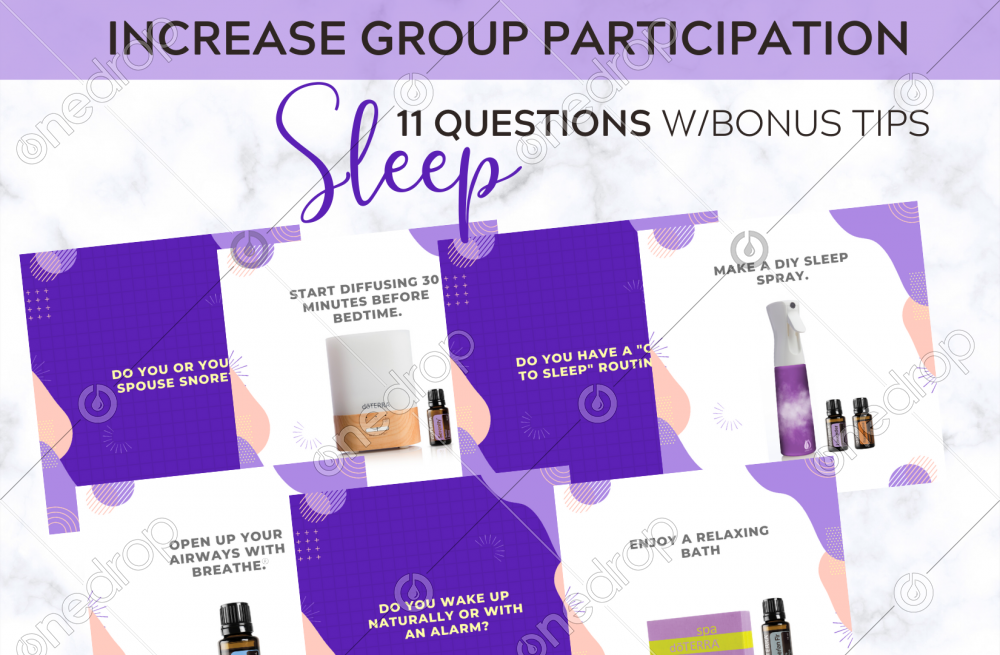 Follow this
Contributor
Click here for larger view

This item requires a One Drop subscription to download.
Already a One Drop member?
click here to sign in
Item Type

Subscription

---

Item Category

Social Media Posts

---

File Type(s)

png

---

Market(s)

US, Canada, Europe, AUS/NZ, Other
Item Description
Increase engagement in your online groups with this sleep themed question series. Questions are geared toward prospects (that don't use oils) or customers that do. Devote a week to discussing sleep and learn more about your customers and prospects in the process.
Blank graphics included to add your own questions and tips.
Sleep Questions Included:
Optional Title: Let's talk about Sleep
What time do you wake up?
How do you usually feel when you wake up? Share a GIF showing us
How many pillows do you sleep with?
How many hours of sleep do you get each night
How long does it take for you to get to sleep?
What time do you go to bed?
Do you have a "get to sleep" routine?
On average how many times do you wake up during the night?
Who sleeps better, you or your spouse?
Do you or your spouse snore?
Do you wake up naturally or with an alarm?
Tips to get a better sleep included:
Serenity Softgels
Diffusing tips
Breathe
DIY Sleep spray
Bath bar and oil to add to Epsom Salts.
Suggested photo uses:
Social media posts 

Instagram stories

Number of photos
: 19
Photo orientation

: Square
Please be sure to watermark before sharing & follow my contributor page for more! Thank you so much!